Full traceability of agricultural production
KUŞGÖZ Agricultural Packaging, citrus, and under the leadership of the export sector, in agriculture for many years, can be viewed under the competence of EurepGAP and GlobalGAP then known.
It features project İzmir Development Agency supported the Aegean Exporters' Union of Good Agricultural High Knowledge and Technology system, which ranked among the leading practitioners grommets Agricultural Packaging dimensions that work is complete traceability.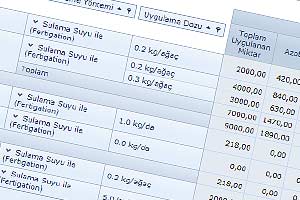 Year-round full control
KUŞGÖZ Agricultural Packaging, Quality Products ® agricultural history all know that all of the products offered by the tag.
Year-round follow-up parcel by parcel, and the plants from tree to tree nutrition, meticulously kept records of pest control and chemical analysis.
Harvested products, business, inventory and shipping records to sales of each granule gets added to the system until the recording of all the history is taken.
Very thorough chemical analysis
KUŞGÖZ Agricultural Packaging, Europe's leading food retailers Kaliteliği uncompromising policies applied is known as the supplier of high quality.
Plant nutrition and pest control system, as well as a complete and accurate times more than the pre-harvest quality by adhering to high quality health care is full of fruits Product ® label.